These are pictures of a Conn alto sax that we cleaned, removed the original nickel plating, polished, bead blasted and then had silver plated. The plating work was done at Anderson Silver Plating in Elkhart, Indiana, all other work was performed in house by Dan and Steve.
---
Here you can see Steve dismantling the horn and if you look closely you can see the original nickel plating on the body.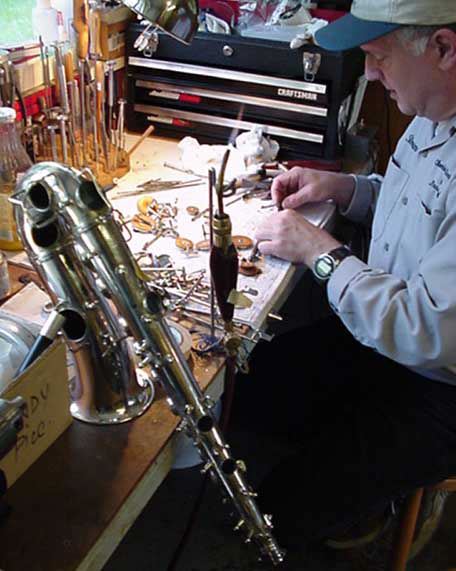 ---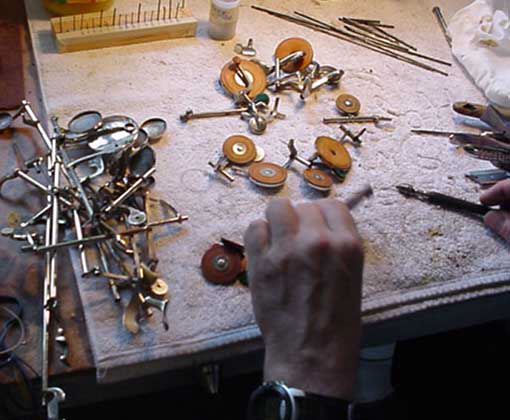 ---
After chemically stripping the nickel, the keys were straightened, swedged and all nicks and scratches removed, then polished into a bright, mirror finish, degreased and prepared for silver plating.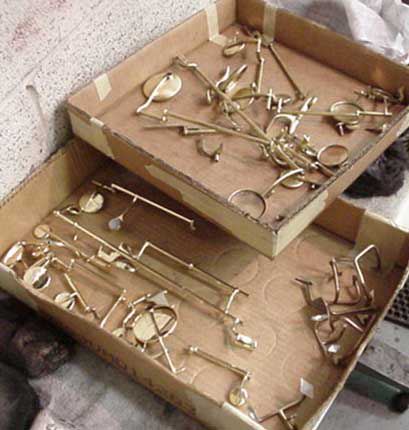 ---
The body was unsoldered to facilitate dent work and straightening.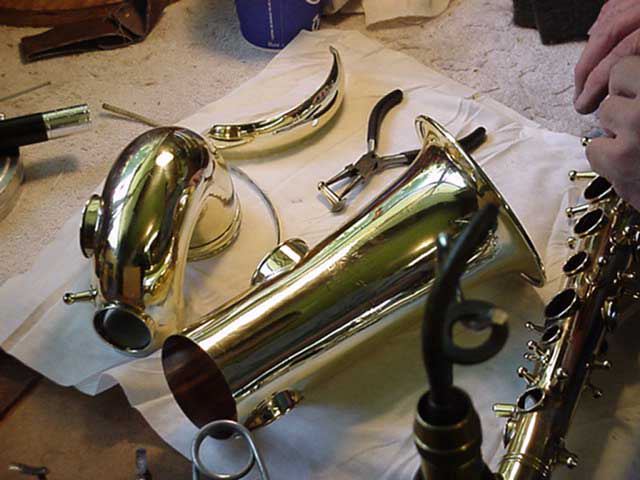 ---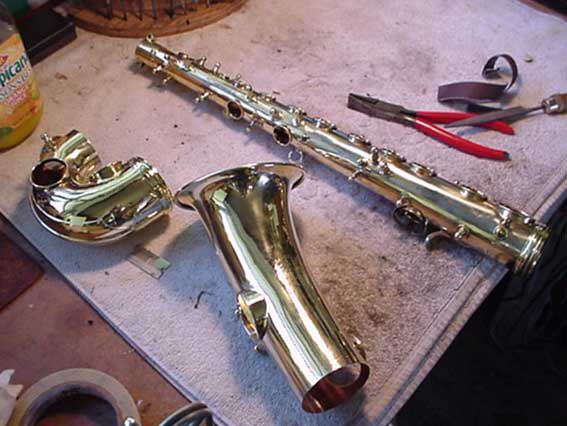 ---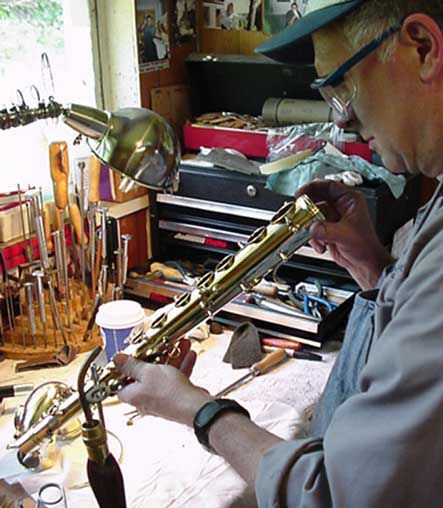 ---
We use a special belt sander to eliminate the scratches and pitting in the metal. We are always very careful to remove as little metal as needed to do the job properly.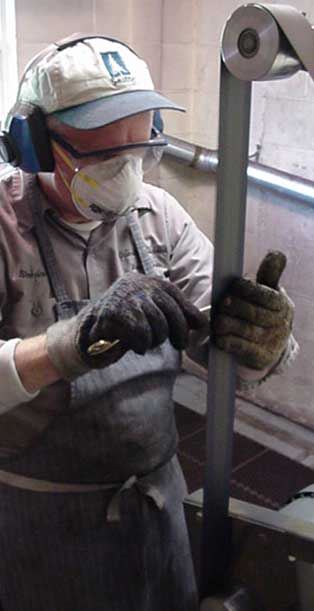 ---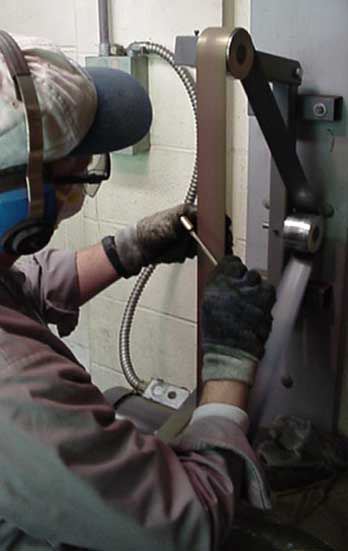 ---
All of the keys and body parts are polished and buffed to a nice clear mirror finish. Again we are very careful to remove as little metal as possible to do the job properly.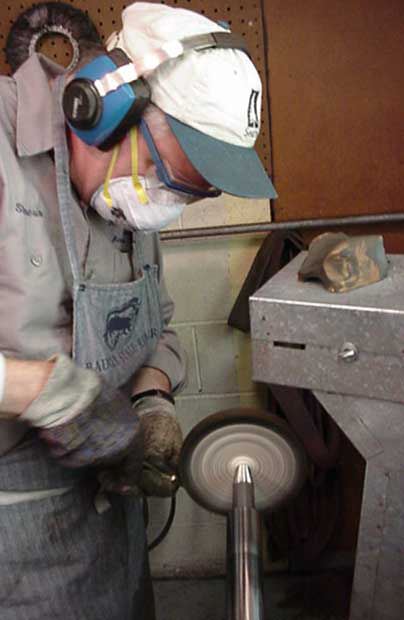 ---
The pictures below show the process of applying the satin finish that was so common on instruments from the beginnning of the twentieth century. We masked off the areas that we wanted to remain bright and also the areas that gained access to the inside of the body tube. We also were careful to mask off the tonehole rims, otherwise the minor pitting from the glass bead blasting would have really played havoc with the seating of the pads.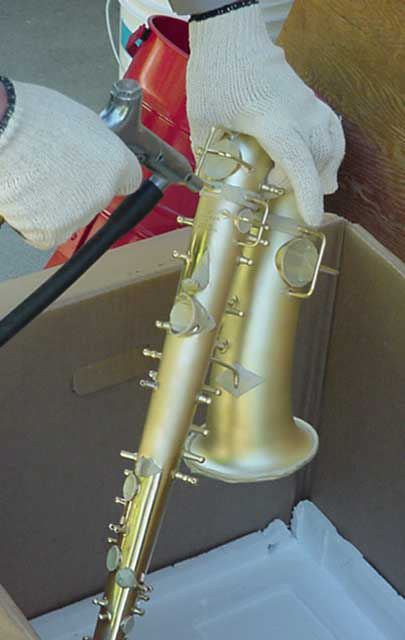 ---
If you look closely, you can see the difference between the areas that have and have not been bead blasted.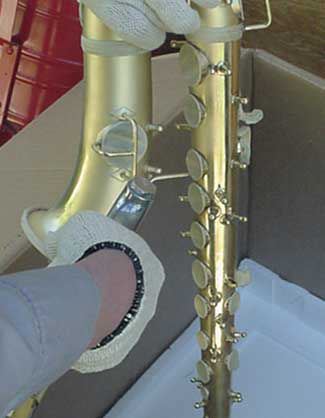 ---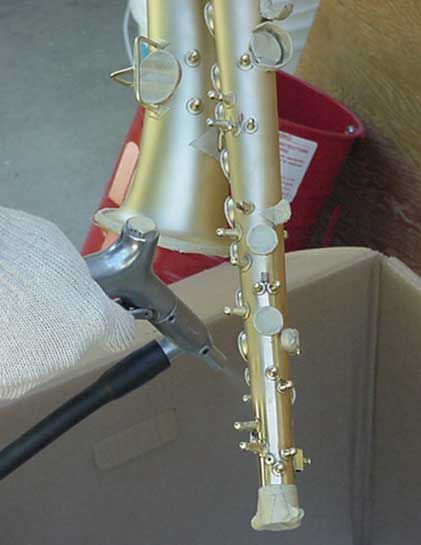 ---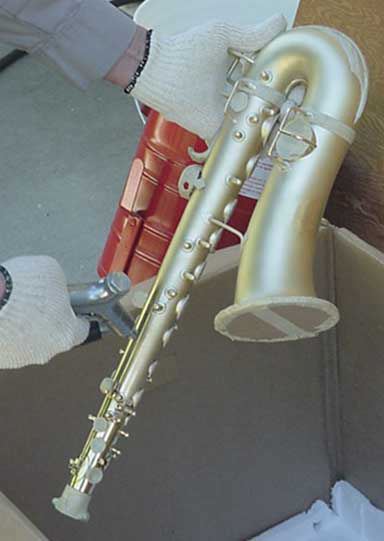 ---
The process of bead blasting is basically using compressed air to propel tiny beads of glass against the metal, pounding into the surface, creating mini "craters" and leaving a soft satin appearance.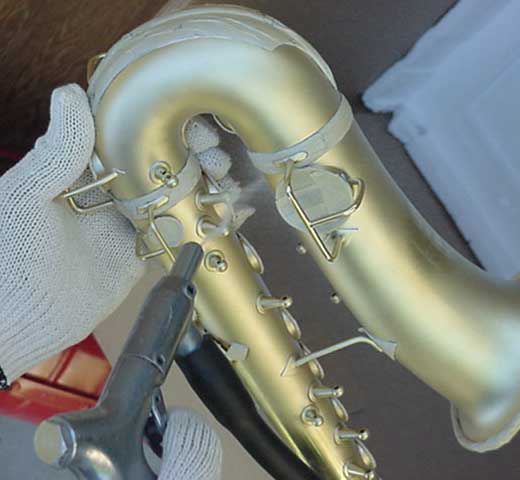 ---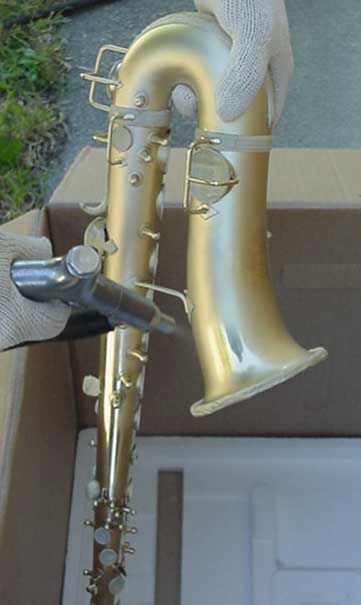 ---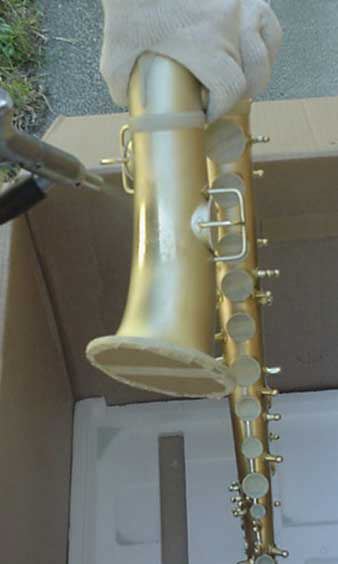 ---
Unfortunately, we do not have a picture of the completed instrument. The exterior and the keys were silver plated and the interior of the bell was gold plated, another feature found common on instruments of that era. We do have other examples of our finished products elsewhere in the gallery and we hope to have more pictures of our woodwind work here soon!
---
To Contact us, you can call us at 206.241.5767 or email us.
Copyright 2003 Oberloh Woodwind and Brass Works