Here at Oberloh Woodwind and Brass Works we take great pride in our work. All of us can honestly say we believe NO ONE ELSE in the Pacific Northwest does better trumpet restorations then we do ! The Bach Stradivarius trumpets we restore will play, in most cases, better U> then brand new models! We install brand new mouthpipes, and cut them to the exact Bach Stradivarius standards. We make completely new slide tubes if the originals are sub-par. We also make new valve caps, stems, buttons, and finger hooks, again to exacting standards. All of this work is done by hand at our facilities. These instruments will not only look excellent, but will play wonderfully for years to come!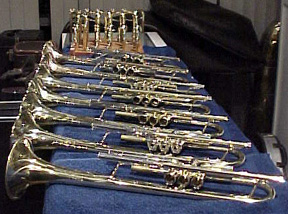 We also have an assortment of used and restored trumpet and cornet mouthpieces! We try our best to update the pages as often as we can but somethimes it is difficult to stay on top of it so feel free to ask, we might just have what you are looking for.

Click here for trumpet mouthpieces!

Click here for cornet mouthpieces!
---
SERVICES | SALES | HOME | GALLERY | EMAIL
---
Selmer Paris K-Modified, Model 23:

Serial Number 93XX, Built in the 1940s. Selmer gold lacquer finish A very popular instrument in the early Big Band days. A rare hand made model preferred by Louis Armstrong. A difficult model to find and a true classic. Real pretty intrument and a nice player. Original case included. Call for details

$1485.00

&nbsp
---
Yamaha Trumpet Model YTR6310B:

Serial Number 0020XX, Older professional model, Lacquer finish is in good shape with some ware, scratches and very minor dents. Gold brass bell with reverse leadpipe. If and are on a tight budget and need a really good affordable instrument, here is an instrument that will fit the bill nicely. Nice factory case included..

$925.00

&nbsp
---
Olds Mendez trumpet:

Serial Number 866XX, Built in late 1952. Bright silver plated factory finish. A rare example manufactured in the LA shop. seldom seen today. 1st and 3rd trigger mechanisms. Valves have good plating and very good compression. Original case included.

$1450.00

&nbsp
---
Olds Mendez trumpet:

Serial Number 340XXX, Built at the Fullerton Calf shop in early1959. lacquered brass finish. 1st and 3rd trigger mechanisms. Valves have good plating and very good compression. Distressed finish but not a beat up instrument. A good solid playing professional trumpet. Original case included. Fully serviced prior to sale.

$1150.00

&nbsp
---
Olds Recording cornet:

Serial Number 338XXX, Built at the Fullerton Calf shop in late 1958. lacquered finish. A very popular product from the Olds Band Instrument Co. This one has an original trigger mechanism that engages the master tuning slide as oppose to the 3rd slide that is more common. The mouthpipe has a little damage that will be corrected prior to sale. Valves have good plating and very good compression. Case not included.

$1385.00

&nbsp
---
Olds Super cornet:

Serial Number 25XXX, Built at the LA Calf shop in the late 1940s. Original lacquered finish is about 85%. An excellent product from the Olds Band Instrument Co. This one has an original adjustable hook saddle for the 1st slide. Minor denting and abrasions. Valves have good plating and very good compression. Fully cleaned and serviced prior to sale. Case not included.

$745.00

&nbsp
---
V. Bach Model 25 (Early Elkhart):

Serial No.98XXX, Early Elkhart model professional trumpet. Bright silver plate 100% with no dents. A classicic large bore professional hand made instrument. Schilke hard shell case included. Fully serviced prior to sale. Call for details.

$2150.00

&nbsp
---
V. Bach Model 25:

Serial No.474XXX, Late model professional trumpet. Bright silver plate 100% with minior dents. A classicic large bore professional hand made instrument. Original Bach hard shell case included. Fully serviced prior to sale.

$1950.00

&nbsp
---
V. Bach Model 37:

Serial No.322XXX, Professional med. large bore trumpet. Bright silver plated 100% with minimal ware.. Minnor dents. A classicic professional hand made instrument. Original Bach hard shell case included. Fully serviced prior to sale.

$1850.00

&nbsp
---
V. Bach Model 37 (Early Elkhart):

Serial No.61XXX, Early Elkhhart model, professional trumpet. Lacquered brass with nickel-silver . Though it show a bit of ware, its still a great horn with a lot of life in it.. Minnor dents. A classicic professional hand made instrument. Original Bach hard shell case included. Fully serviced prior to sale.

$1650.00

&nbsp
---
V. Bach Model 37:

Serial No.171XXX, Professional trumpet. Bright silver plated with minimal ware.. Minnor dents. A classicic professional hand made instrument. Original Bach hard shell case included. Fully serviced prior to sale.

$1650.00Sold

&nbsp
---
V. Bach Model 37:

Serial No.171XXX, Professional trumpet. Bright silver plated with minimal ware.. Minnor dents. A classicic professional hand made instrument. Original Bach hard shell case included. Fully serviced prior to sale.

$1650.00Sold

&nbsp
---
E-Benge Model 3 MLP:

Serial No.84XX, Fantastic jazz of "comercial" trumpet. Built in late 1960 or there about, Bright silver plate with minimal ware.. Minnor dents. A classic professional hand made instrument with plenty of sizzle. Original hard shell case included. Fully serviced prior to sale.

$1525.00

&nbsp
---
Getzen Custom Series Cornet:

Serial No.GA429XX, Bright silver plated, like new condition. classic sheppards crook cornet. 1st and 3rd slide triggers Original hard shell case included. Fully serviced prior to sale.

$925.00

&nbsp
---
Martin Custom (RMC):

Serial No.217XXX, Gold brass bell, reverse lead-pipe, Nickel silver slide tubes and spring barrels. 1st slide saddle and 3rd slide-ring. Lacquer is in nice shape though it does have a few dents in the crook and bell stem that will soon be addressed. Original hard shell case included. Fully serviced prior to sale.

$1150.00SOLD

&nbsp
---
Bach TR-300:

Serial No.980XXX, Fantastic entry level trumpet. Made in the USA. Lacquer is in very nice shape. No dents. Original hard shell case included. Fully serviced prior to sale. 7c mpc included

$425.00

&nbsp
---
Getzen 300 series:

Serial No.980XXX, Fantastic entry level trumpet. Made in the USA. Lacquer is in very nice shape. Very minor dents. Original light weight case included. Fully serviced prior to sale. 7c mpc included

$400.00

&nbsp
---
F. Besson "Prototype" Eb cornet:

Serial No.49XXX, Built in 1891/92, Bright silver plated though a little worn, has not been refinished but still a good looker. We have made the needed repairs and rebuilt its valves.These arwe difficult to come buy,so if you are looking for an affordable classic, here is you chance. Case not included.

$885.00

&nbsp
---
Getzen Eterna Piccolo Trumpet:

Serial No.P050XX, Bright silver platedFinish is in very nice condition, VERY minor dents (if any). Good looking and playing instrument at a great price.

$925.00SOLD

&nbsp
---
V. Bach TR-200:
Serial Number 433XXX, Bright silver plated. Excellent mid level instrument. Some minor dents and scratches. Comes with original Selmer hard shell case.

$750.00SOLD

&nbsp
---
Selmer Paris K-Modified, Model 23A:

Serial Number 20XXX, Built in the 1950s. Original Lacquer 75% A very popular instrument in the early Big Band days. A rare hand made model preferred by Louis Armstrong. A difficult model to find let alone purchase. Valves have been restored in our shop by Daniel Oberloh. Original case included.

$1750.00SOLD

&nbsp

$1485.00

&nbsp
---
Phone: 206-241-5767
email: sales@oberloh.com
Copyright 1997-2014 Oberloh Woodwind and Brass Works