Serving the music community since 1991
SERVICES | SALES | THE STAFF| GALLERY | EMAIL

Be sure to visit us on Facebook.
Website last updated: July 14, 2019 to view what's new, click here.
WE HAVE MOVED!
---
Check out the New up date of the C.G. Conn factory post card pics of 1911, click here.
NOTICE REGARDING GENERAL REPAIRS AND MAINTENANCE- In spite of the lengthy time required for major restorations on work , we are still able to provide speedy turn around on all general repairs and maintenance (i.e. adjustment, simple repairs and cleaning). Our turn around time is roughly one week or in most cases less! Repadding of of woodwinds in most cases can be addressed inTWO weeks or less!
IMPORTANT NOTICE REGARDING OVERHAULS - Due to our on going backlog of major projects, please contact the shop regarding scheduling a restoration of your instrument. We always strive to exceed our customers expectations on restorations, unfortunatily this has made out queue long. We are still taking in standard repairs, maintenance work and valve rebuilds and you can expect ournormalquality expediency on these projects, includinggeneral woodwind repairs andmechanical overhauls. Thank you.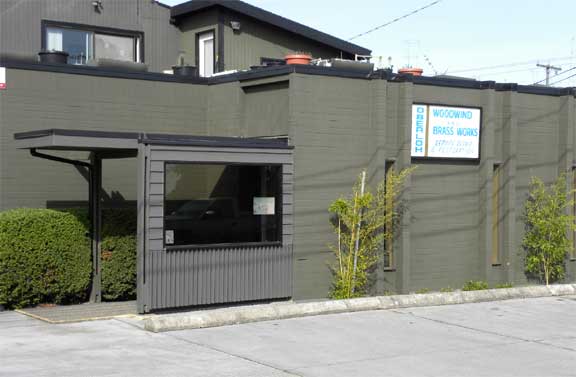 Welcome to our virtual shop! We at Oberloh Woodwind and Brass Works are committed to the repair and rebuild of musical instruments with the highest commitment to quality. All of the staff are performing musicians, so we understand the importance of having an instrument repaired correctly, the first time.
Oberloh Woodwind and Brass Works is known nationally for our work on brass and woodwinds. We also have the largest machine shop for instrument repair in the Pacific Northwest, allowing us to rebuild instruments that have been damaged beyond hope. Except for plating, all work is performed on the premises. We also have the capability to fabricate instrument parts that are no longer carried by the manufacturer. Take a look at some of the completed projects we have featured in our picture gallery. If you have an instrument that other shops say cannot be repaired or rebuilt, bring the horn to us before you give up hope!
To contact us, please call 206.241.5767 or email. You are also welcome to stop by our shop:
958 North 127th #A, Seattle, WA 98133
Click here for driving directions and maps.
Our shop hours are 10AM - 6PM Monday through Friday and by appointment on Saturdays, 2PM - 6PM. We have been known to come in early and stay late as we feel inspired, so please phone anytime.
WANTED | SALES | THE STAFF | GALLERY | EMAIL
Member, American Electroplaters and Surface Finishers Society, Inc.
Copyright 1997-2019 Oberloh Woodwind and Brass Works